News
2005
2004
2003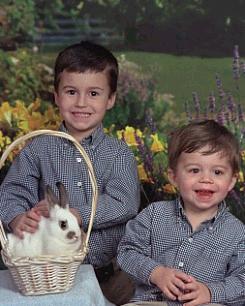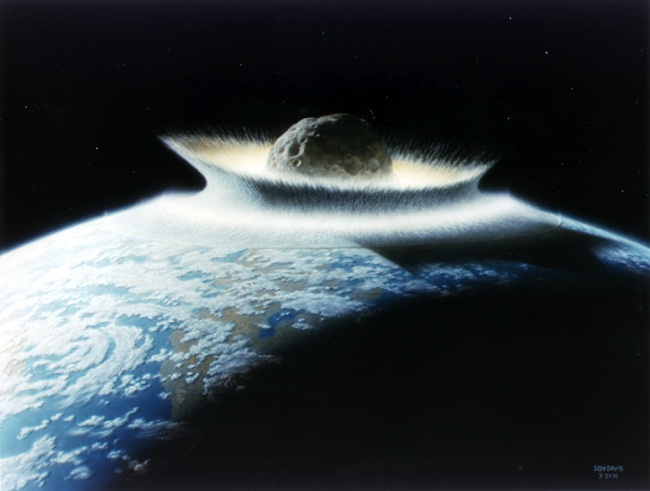 (c) NASA
NASA Asteroid and comet impact hazard site
Some new pics of Ashley and Danielle and Ali, before their prom, May
Her Majesty, the Queen Mother, left this world for the next. March 31 2002.

All my 2002 news here. Old news from 1998 and really old news from 1997 (old format).
---
My Favorite website
Hey Gaz and Rob, remember Blake 7? Here is the largest site on the web dedicated to Blake and the team.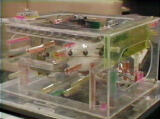 Orac - one of the Seven (before One of Seven was even conceived!)
---
My Favorite Books
My current top or recently read boos are:

River out of Eden, by Richard Dawkins. Review of evolutionary biology; arguments for how complex beings and things evolve when some would say, "it it so rare and complex, there is no way you can use 'half an eye'". Also, did you know that bees tell the time? Not according to a 12 or 24 hour watch, but they can tell time. Read on maestro! Here are some interesting quotes from the book:

"Genes do not improve in the using. they are just passed on, unchanged except for very rare random errors. It is not success that makes good genes. It is good genes that makes success, and nothing an individual does during its lifetime has any effect whatever upon its genes."

"Paternal genes and maternal genes do not blend; they recombine independently."

"To survive in the long run a gene must be a good companion."

"There are now perhaps thirty million branches to the river of DNA, for that is an estimate of the number of species on earth. It has also been estimated that the surviving species constitute about 1 percent of the species that have ever lived."

"We - and that means all living things - are survival machines programmed to propagate the digital database that did the programming."

"Darwinism works only because - apart from discrete mutations, which natural selection either weeds out or preserves - the copying process is perfect."

"Nature is not cruel, it is pitilessly indifferent."

"We humans have purpose on the brain. We find it hard to look at anything without wondering what it is "for," what the motive is, or the purpose behind it."

Take a party scenario where everyone is talking at the same time, trying to be heard. Why is it that the party always gets louder and louder? Why don't people cooperate and talk in whispers so that more can be heard? Look at this:

"Time and again, cooperative restraint is thwarted by its own internal instability. God's Utility Function seldom turns out to be the greatest good for the greatest number. God's Utility Function betrays its origins in an uncoordinated scramble for selfish gain."

"Nature's Utility Function never values longevity for its own sake but only for the sake of future reproduction." Why is it that one species of salmon return to spawn and die, and another will repeat the cycle (to their original birth place) twice? How can nature justify the energy diversion?

And my favorite, "..we inherit what it takes to be young, but not necessarily what it takes to be old."

Why people buy things they don't need, by Pamela Danziger. Interesting commentary and analysis of the discretionary nature of consumer purchases. Most readers will "see themselves" in this book; mostly straight forward analysis of the "why" people by rather than the "what" or "where". Good breakdown by product category in the latter half; and some good advise for brand managers and marketers.
Small pieces loosely joined , by David Weinberger. Another explanation of the networked society we now find ourselves in. Some interesting insights.
The Fatal Conceit: The Errors of Socialism, by Friedrich A. Hayek.
---
PC Game Review
Diggles: the myth of Fenris
You have to play this game to believe it. Heralded in the early promotion as a cross between Creatures 3 and The Sims, this is awesome. You control a bunch of dwarves who each have unique settings for each trait - giving them personality. Some are cuddly, and some are not so! This is the AI side of the game and its hilarious. Then unlike The Sims, they have children and in time, die. This is more like it! You can nurture them (feed, sleep, drink, play) and create a family that has an end date - just like the real thing. Its not quite the same "god-like as in Black and White, but its as innovative.
When it loads, you can still see some German file names - giving away the developers nationality. And you gotta see the sword fight "slow motion" that takes a leaf out of The Matrix! But the strange thing is that the defeated (dead) enemy dwarf simply gets up and walks away - well it is the tutorial. This might be the next Black and White - that is until the new Black and White gets going with the new version with hundreds of warring town folk yapping at the Creature's heels (we will have to wait for this though!) This IS the game to get. Gorgeous graphics and hilarious interaction between the dwarves. Even more hilarious - spot the "stick up" dwarves planted all over the place!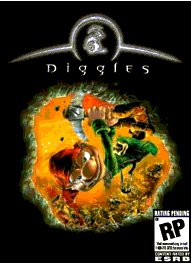 And here is a screen shot of the family gathering.
Top 20 Games - My current favorite games as at November 2003 along with my ranked favorites in each category I track:
God Games/Strategy (AI heavy),
Real-Time/Strategy
Most innovative game formats:
"Real Life" games: Majestic, EA Games: like playing "The Game" for real; highly interactive game with email, phone, fax and Internet
God Games: Black and White (EA Games), preceded by Sacrifice, and followed up by Warrior Kings: massive 3D worlds with complete freedom of movement often with "god" like control; Creatures 3, and then Sea Monkeys, and now Diggles: AI enhanced god-like population management
Simulation/Business: Tropico, and now Cultures: RTS games typically where you mine goods and build cities, towns, etc., but where each "person" in the game has their own personality...like little bots with cute AI
Massively Multiplayer/avatar focused online: Mankind: massively multiplayer format with longevity, promotion, persistent universe, followed up with Anarchy Online
The Sims Online (massively multiplayer, persistent, Sims for real)
Most Promising Games on the Horizon (not yet released)
Games worth the demo maybe, but not the $20
Game Sites worth following:
---
---
Galleries
Cyberlia and Cyberternity
See what's up in the on-line world, Cyberlia. Sign up and "get your second chance today!"
Our Loss
Too many of my favorite people died and got "there" before I did. Here is a sample.
---
Personal
Remembering John Vidler, May 31st, 2001. After a long illness, we wish him fraternal rest. And thinking of Ken Crellin. And Uncle Gordon White. And Jeanie Jones. Ted. Measles. Sandy. Long way Nanny. Little way Nanny and Grandad.
What is Delboy really about? See here the Truth behind Delboy. Access his Record List of Jazz, Funk and Soul from the 1970's-80's. Find out what the "Bog Roll Top 20" was...
Poems: Kingdom's Hall update 8/2002
"As in the sea of life, so many waves travel in the same direction. And yet, They all break in two." Delboy, "Kingdoms Hall", 14th November 1987. Try these for size: One by One, Token, or this Click-Send.
Labour get real chance to damage
My favourite Press Line: "It has been suggested that Mr Blair, like his grandfather Jimmy Lynton, is essentially an actor. Every actor needs a script, and yesterday, Mr Blair lost his favourite scriptwriter."
So how far would you go? If you chart Tony Blair's speeches to notable meetings in the UK in the year before his child's birth, you would have noticed a change in the message.
Film: Forbidden Planet and Tatti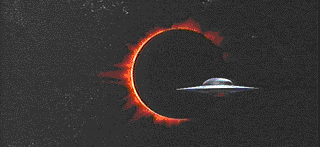 See some great pics and hear some sounds from the greatest sci-fi of all time; and see a review of Jacques Tatti's movies.
PC Games (with GEJ)
See what PC games we have been playing. Also, check out our plans for Barbarossa.
Lest we forget, at Remembrance and beyond... WWII Poem "Wait".
---
"Doomfest" Results
Want to see how Gaz and Arche spend their joint vacation time? Check out the results for:
Reminiscing...
Old TV, movies, and anything that defines me.
This is the BBC
and then there was "On the Buses"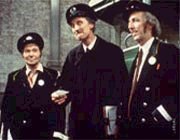 and here is the Glynis Johns Fan Club!
Whatever happened to Billy Blastoff?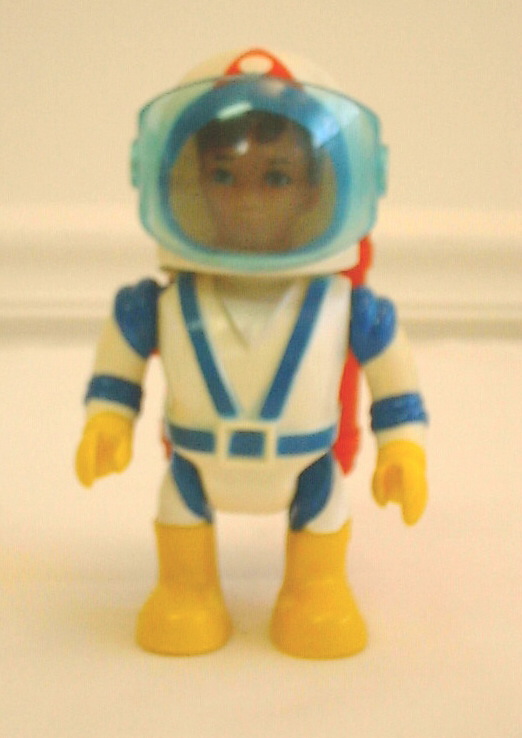 and here is the Billy set I actually had as a 6 or 7 year old! And here is a web site that is Billy.
My Favorite Links
Help yourself to my most favored links
Old news from 1999 and really old news from 1998 (old format).